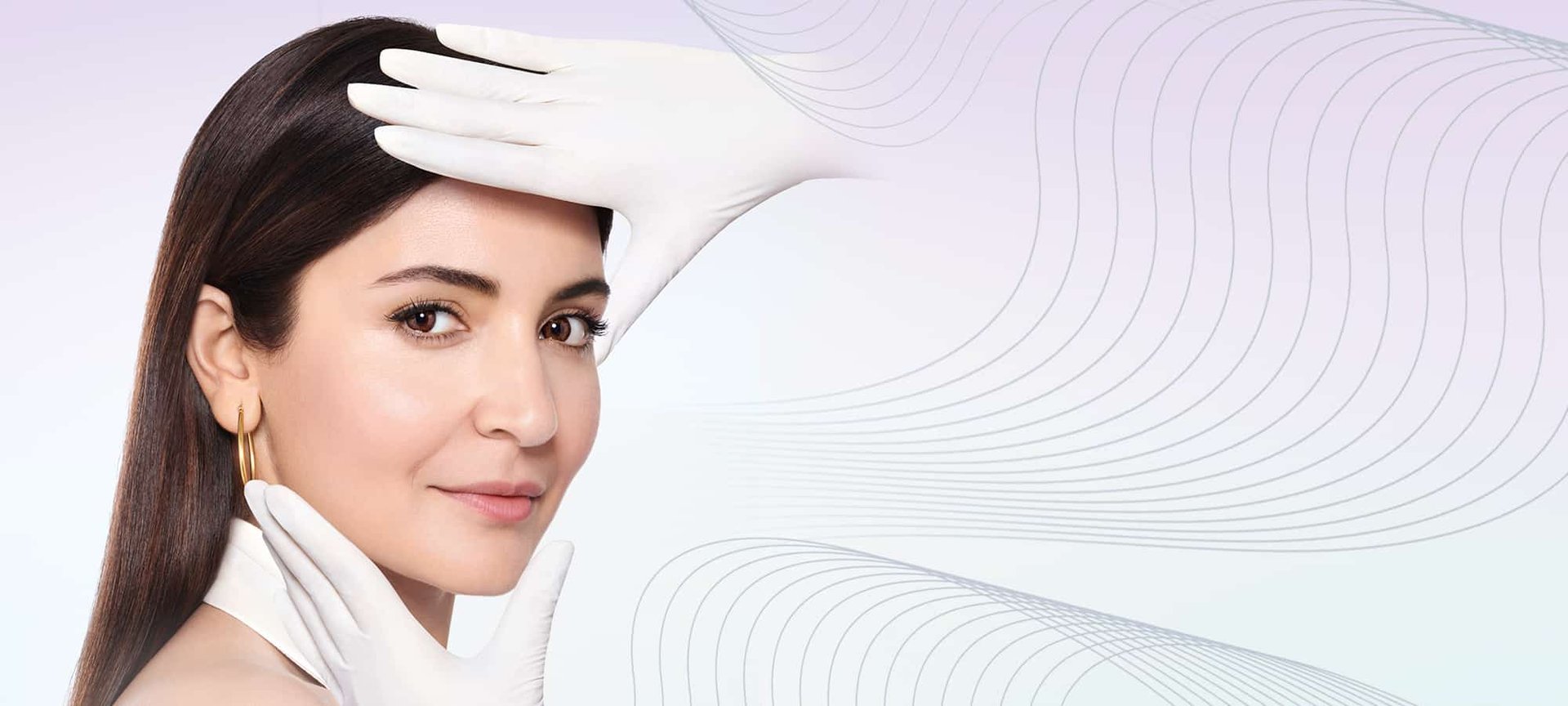 Experience the miraculous effect of Glycolic Acid!
Glycolic Acid for Supremely Bright Skin and Reduced Dark Spots
Enhance your skincare ritual with glycolic acid products that provide the perfect dark spot, dullness, and hyperpigmentation treatment for all skin types.
See all Glycolic Bright
Hyaluron Moisture Range
Explore
See all haircare products
More From Our Classic Brands
Explore
SEE ALL HAIR CARE PRODUCTS
Beauty is smarter now
Online tools
DISCOVER ALL ONLINE TOOLS
Discover Trends and Tips
Keep Your Skin & Hair Healthy & Happy !
See All Articles
{ "@context": "http://schema.org", "@type": "Thing", "subjectOf": { "@type": "ItemList", "itemListElement": [ { "@type":"ListItem", "position": 1, "url" : "https://www.lorealparis.co.in/beauty-magazine/hair-care-blogs/hyaluronic-acid-benefits-for-different-hair-types", "item":{ "@type": "Article", "mainEntityOfPage":{ "@type":"WebPage" }, "headline":"Hyaluronic Acid Benefits for Different Hair Types", "image":{ "@type":"ImageObject", "url":"https://www.lorealparis.co.in/-/media/project/loreal/brand-sites/oap/apac/in/articles/banners/get-glowing-tips-for-beautiful-skin-from-morning-till-night-hero-2.jpg?rev=6adae3c0c64d44bba27962b070c672c8", "height":900, "width":2000 }, "datePublished": "2023-05-17T12:36:07+00:00", "dateModified": "2023-05-17T12:36:48+00:00", "author": { "@type": "Brand", "name": "L'Oréal Paris" }, "publisher":{ "@type":"Organization", "name":"L'Oréal Paris", "logo":{ "@type":"ImageObject", "url":"https://www.lorealparis.co.in/-/media/project/loreal/brand-sites/oap/shared/baseline/navigationext/loreal-paris-black-logo.svg?rev=043a5893295a412fb46ec561cbd31147", "width":189, "height":60 } }, "description":"Every skincare fanatic is aware of the hype around hyaluronic acid. It is a miracle ingredient for the skin that works wonders. It hydrates the skin, retains moisture, and plumps it up. But are you aware of the benefits of hyaluronic acid for hair? If not, get ready to be mesmerised! It is a boon for your tresses, and it adds intense hydration to your scalp and hair. However, is hyaluronic acid hair care suitable for all hair types? Let's take a deep dive and understand the benefits of hyaluronic acid for different hair types." } }, { "@type":"ListItem", "position": 2, "url" : "https://www.lorealparis.co.in/beauty-magazine/skin-care-blogs/hyaluronic-acid-for-skincare-true-vs-false", "item":{ "@type": "Article", "mainEntityOfPage":{ "@type":"WebPage" }, "headline":"hyaluronic acid for skincare true vs false", "image":{ "@type":"ImageObject", "url":"https://www.lorealparis.co.in/-/media/project/loreal/brand-sites/oap/apac/in/articles/banners/hyaluronic-acid-how-to-keep-your-internal-fountain-of-youth.jpg?rev=f7dab2bde43d4aa18ee0b47f270d5e3e", "height":900, "width":2000 }, "datePublished": "2023-05-24T12:34:58+00:00", "dateModified": "2023-05-24T12:36:06+00:00", "author": { "@type": "Brand", "name": "L'Oréal Paris" }, "publisher":{ "@type":"Organization", "name":"L'Oréal Paris", "logo":{ "@type":"ImageObject", "url":"https://www.lorealparis.co.in/-/media/project/loreal/brand-sites/oap/shared/baseline/navigationext/loreal-paris-black-logo.svg?rev=043a5893295a412fb46ec561cbd31147", "width":189, "height":60 } }, "description":"Even if you are no skincare guru, you probably already know about hyaluronic acid skin care. Products with hyaluronic acid are all the rage these days and every skincare blog you read raves about the uses and benefits of hyaluronic acid for the skin. But do you know how hyaluronic acid works? Some of us know of it but are not fully aware of the myths and facts about hyaluronic acid. As hyaluronic acid has become increasingly popular, misinformation has flooded the internet. So today, we&rsquo;ll be busting myths and shedding some light on hyaluronic acid facts. Read ahead to know more." } }, { "@type":"ListItem", "position": 3, "url" : "https://www.lorealparis.co.in/beauty-magazine/skin-care-blogs/hyaluronic-acids-more-than-just-a-face-friendly-active-ingredient", "item":{ "@type": "Article", "mainEntityOfPage":{ "@type":"WebPage" }, "headline":"Hyaluronic acid's more than just a face-friendly active ingredient", "image":{ "@type":"ImageObject", "url":"https://www.lorealparis.co.in/-/media/project/loreal/brand-sites/oap/apac/in/articles/banners/different-ways-to-use-hyaluronic-acid-for-skin.jpg?rev=8d0b427cfce74361ba5889282bbb16ff", "height":900, "width":2000 }, "datePublished": "2023-05-17T12:38:34+00:00", "dateModified": "2023-05-17T12:39:19+00:00", "author": { "@type": "Brand", "name": "L'Oréal Paris" }, "publisher":{ "@type":"Organization", "name":"L'Oréal Paris", "logo":{ "@type":"ImageObject", "url":"https://www.lorealparis.co.in/-/media/project/loreal/brand-sites/oap/shared/baseline/navigationext/loreal-paris-black-logo.svg?rev=043a5893295a412fb46ec561cbd31147", "width":189, "height":60 } }, "description":"Highly regarded as a miracle-working molecule, hyaluronic acid has become a must-have to combat the effects of skin ageing. One of the best solutions to delay the signs of ageing is hydrating your skin. This As a humectant in nature, hyaluronic acid can hold up to 1000x its weight in water. The best part about hyaluronic acid is that it is <a href="https://www.lorealparis.co.in/hyaluronic-acid-a-boost-of-hydration-for-all-ages" style="color: #e32646; border-bottom: 1px dotted #e32646; text-decoration: none;">beneficial for people of all ages and skin types</a>. If you start <a href="https://www.lorealparis.co.in/hyaluronic-acid-levels-drop-with-age" style="color: #e32646; border-bottom: 1px dotted #e32646; text-decoration: none;">using hyaluronic acid from your 20s</a>, you will witness its benefits in the long run. It ensures your skin is deeply moisturised and plump looking. Using hyaluronic acid for dry skin regularly guarantees hydrated, smooth and firm skin.</br></br> But this miraculous ingredient does more than just hydrate. The other hyaluronic acid uses include its ability to improve skin elasticity, reduce skin redness and is also a boon for people with sensitive skin. If you have oily skin and hate greasy moisturisers, hyaluronic acid is what you need to add to your routine. Using hyaluronic acid for oily skin ensures that it receives the right amount of moisture, without being too heavy on the skin." } }, { "@type":"ListItem", "position": 4, "url" : "https://www.lorealparis.co.in/beauty-magazine/skin-care-blogs/hyaluronic-acid-levels-drop-with-age", "item":{ "@type": "Article", "mainEntityOfPage":{ "@type":"WebPage" }, "headline":"Hyaluronic Acid Levels Drop With Age", "image":{ "@type":"ImageObject", "url":"https://www.lorealparis.co.in/-/media/project/loreal/brand-sites/oap/apac/in/articles/banners/hyaluronic-acid-levels-drop-with-age.jpg?rev=eefaf137a61b46e2bed8f803bb0be696", "height":900, "width":2000 }, "datePublished": "2023-05-17T09:25:29+00:00", "dateModified": "2023-05-17T09:26:24+00:00", "author": { "@type": "Brand", "name": "L'Oréal Paris" }, "publisher":{ "@type":"Organization", "name":"L'Oréal Paris", "logo":{ "@type":"ImageObject", "url":"https://www.lorealparis.co.in/-/media/project/loreal/brand-sites/oap/shared/baseline/navigationext/loreal-paris-black-logo.svg?rev=043a5893295a412fb46ec561cbd31147", "width":189, "height":60 } }, "description":"Super essential for the texture, quality, bounce, and health of our skin, hyaluronic acid is a natural and precious element found in our bodies. This acid is responsible for maintaining the plumpness of the skin, helps to reduce the appearance of fine lines and wrinkles and makes the skin firm. But did you know that the levels of hyaluronic acid drop as you get older? Not aware of the levels of hyaluronic acid before and after a particular age? Don't worry, we're here to help you understand the lifecycle of hyaluronic acid and ways to achieve hyaluronic acid benefits on the face and skin even after the levels drop. Read ahead to know more." } }, { "@type":"ListItem", "position": 5, "url" : "https://www.lorealparis.co.in/beauty-magazine/skin-care-blogs/5-superfoods-to-boost-your-skins-hyaluronic-acid-levels", "item":{ "@type": "Article", "mainEntityOfPage":{ "@type":"WebPage" }, "headline":"5 Superfoods to Boost Your Skins Hyaluronic Acid Levels", "image":{ "@type":"ImageObject", "url":"https://www.lorealparis.co.in/-/media/project/loreal/brand-sites/oap/apac/in/articles/banners/5-superfoods-to-boost-your-skins.jpg?rev=f6d6358c3aa84f9aac172005a1f75540", "height":450, "width":1000 }, "datePublished": "2023-09-03T10:14:17+00:00", "dateModified": "2023-09-03T10:15:08+00:00", "author": { "@type": "Brand", "name": "L'Oréal Paris" }, "publisher":{ "@type":"Organization", "name":"L'Oréal Paris", "logo":{ "@type":"ImageObject", "url":"https://www.lorealparis.co.in/-/media/project/loreal/brand-sites/oap/shared/baseline/navigationext/loreal-paris-black-logo.svg?rev=043a5893295a412fb46ec561cbd31147", "width":189, "height":60 } }, "description":"Hyaluronic acid is a natural element found in the body and plays a key role in maintaining the health of your skin by reducing the appearance of wrinkles, and improving skin hydration, elasticity, and texture. Unfortunately, <a href="https://www.lorealparis.co.in/hyaluronic-acid-levels-drop-with-age" style="color: #e32646; border-bottom: 1px dotted #e32646; text-decoration: none;">the levels of hyaluronic acid in your body decrease as you age</a>. The acid is available in oral supplements, injections, and topical products but a great way to maintain the natural hyaluronic acid levels in your body is by consuming foods that are rich in it. The age-old saying "you are what you eat" is absolutely true as your body can produce more hyaluronic acid if you adjust your diet. On that note, here's a list of superfoods to boost your skin's hyaluronic acid levels and help it stay smooth and supple all the time." } }, { "@type":"ListItem", "position": 6, "url" : "https://www.lorealparis.co.in/beauty-magazine/hair-care-blogs/stop-chlorine-from-wrecking-your-hair-and-skin", "item":{ "@type": "Article", "mainEntityOfPage":{ "@type":"WebPage" }, "headline":"Stop Chlorine From Wrecking Your Hair and Skin", "image":{ "@type":"ImageObject", "url":"https://www.lorealparis.co.in/-/media/project/loreal/brand-sites/oap/apac/in/articles/banners/stop-chlorine-from-wrecking-your-hair-and-skin.jpg?rev=1ffa8b4517724487ad44839d313f7799", "height":900, "width":2000 }, "datePublished": "2023-07-21T08:14:31+00:00", "dateModified": "2023-07-21T08:15:53+00:00", "author": { "@type": "Brand", "name": "L'Oréal Paris" }, "publisher":{ "@type":"Organization", "name":"L'Oréal Paris", "logo":{ "@type":"ImageObject", "url":"https://www.lorealparis.co.in/-/media/project/loreal/brand-sites/oap/shared/baseline/navigationext/loreal-paris-black-logo.svg?rev=043a5893295a412fb46ec561cbd31147", "width":189, "height":60 } }, "description":"Stop Chlorine From Wrecking Your Hair and Skin" } } ] } }